So I sold the '84 Norco Avanti.
Paid - $40
Put in - $15 for a new Bottom Bracket + ~$10 for new derailleur cables
= $65
sold it for $175 making $110.
Not too shabby.
It was an okay bike, nothing to go crazy over but it had decent components and the frame was nice. I sold it because I found this guy for $50.
It's a 1983 Raleigh Condor.
Mangalloy double butted tubing, 27" Araya rims laced to Sunshine hubs, Sakae stem, bars, pedals, seat post, and in my size too. The awesome thing, as you can see in the pictures, is it comes with what is known as Shimano "Golden Arrow" components. Also known as
1st generation 105
, and it's almost a full group set! Crank, brakes, levers, front derailleur, rear derailleur, downtube shifters, the freewheel is actually Shimano 600 so it's a step up, and the bottom bracket was shimano as well but it wasn't in the best shape so it's been replaced with a shimano cartridge BB for simplicity.
This shimano golden arrow stuff all has this calligraphy like arrow engraved on all the components, it only says 105 on the markings on the back of the parts. Some of it has some scratches and scuffs, but it's still real nice looking. The frame/paint isn't in the best of shape but it and the rest of the parts have cleaned up pretty good. All these pictures are from when I first got it, and I am in the process of cleaning it up now. Almost finished. Just waiting for some brake lever hoods, and I have to sort out an issue with the rear wheel...
The Surly LHT is currently a bare frame sitting in my mechanic stand. It's getting a total overhaul being cleaned and tuned. It was pretty messy.
In the past month I also helped my sisters friend Brittany, who lives here in Halifax get setup with this neat little number.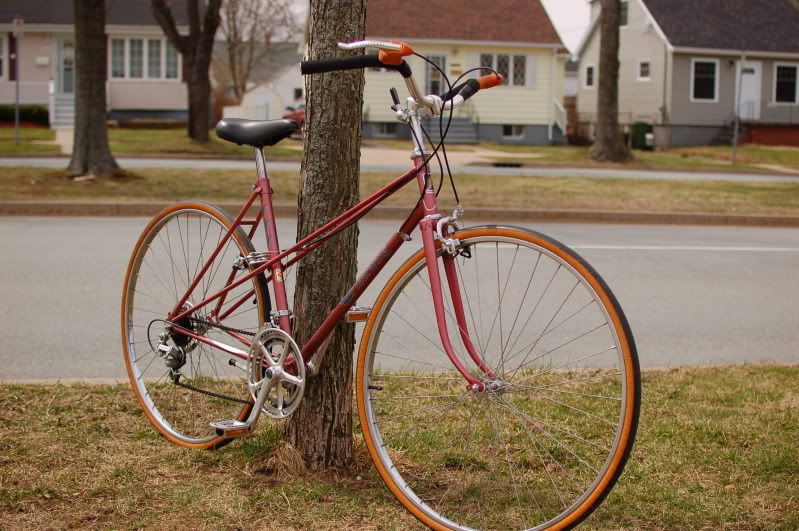 It's an old Eaton's department store mixte, but it had Suntour components and was kept in really good shape (Zero chain wear on the original chain!). I cleaned it up with some fresh grease where it needed it, new brake shoes as the others were dried up, and a porter bar instead of drops for a classic city bike feel. It still needs to have the old steel back wheel trued a little as it is a bit wonky, and then the back brake adjusted a little, but it's rideable!
I also picked up a mountain bike with some older Shimano Exage components on it, and a biopace ring for $35 in a 22" frame. The old winter bike is corroding quite a bit as I didn't clean it off properly. So that needs to be stripped too to see what can be salvaged, and the aforementioned bike will probably become the new winter beater as it's a bit bigger, and has some nicer bits on it.
Trying to finish up my thesis before the end of June. Bike stuff is kind of coming secondary right now so blog updates won't be coming too readily.
If something interesting comes along I'll try to make a quick update!