It is a good thing I am living with my parents again. My cost of living has gone down significantly. I still buy my own groceries and chip in $X a month to help out with household expenses but it is between 1/3 and 1/4 of what I was paying in my apartment.
It's a good thing because I'm spending a lot of money on my bike.
Today I received my Surly Front Nice Rack and my Pletscher 2-Legged Kickstand, which I purchased from Niagara Cycle Works through Amazon.com. When installing the Nice Rack I ran into some issues though. The lock nuts were very, VERY easy to get stripped out! I ended up snapping off 4 bolts trying to install the rack. It's lucky it comes with lots of bolts and nuts, however I am now 1-nut short of a complete installation. At least it is on there. I will email surly and ask them for some spares.
She is finally starting to look like a touring bike.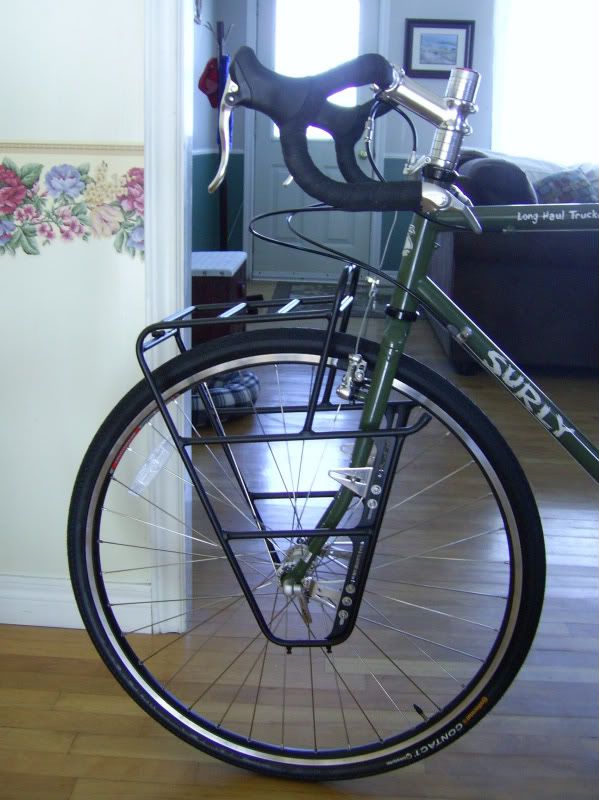 Before installing the 2-Legged Pletscher Kickstand I rembered hearing some issues about the installation before so did a quick google search of the LHT and the Pletscher. Turns out the top plate is not very well designed (seen in the pick below). I wraped some old inner tubing around my chainstays and held it there with zip-ties (not easy to do on the chain ring side...) to prevent slipping/scratching, and then mounted the stand, being careful of the derailleur cable running to the rear along the chainstay. The problem is if you do not tighten it enough it will come loose all the time, if you tighten it too much you can pinch/crush your chain stays! So if any of you get this stand BE VERY CAREFUL!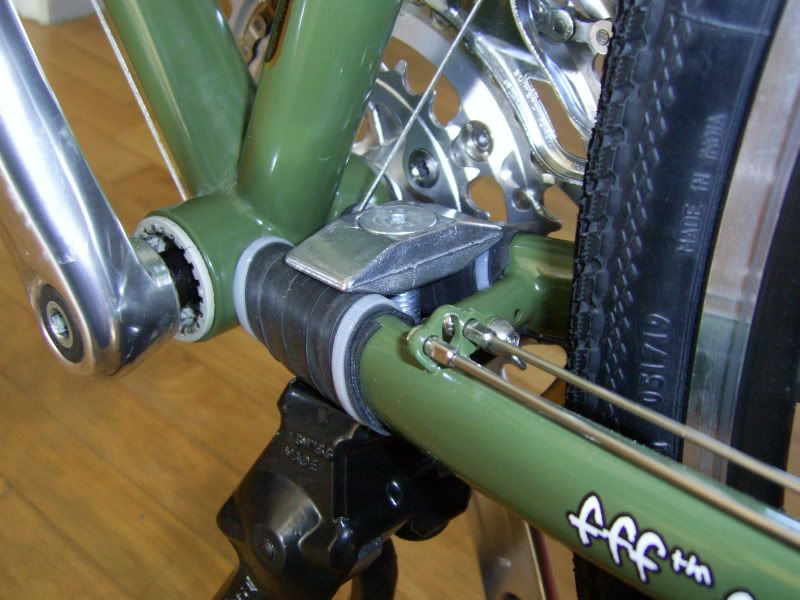 I found two solutions for this issue. One is to make a custom top braket, like this fellow from a
google group discussion about warning people of the perils of this kickstand
. (Photo below taken from the gentleman's flickr page linked in his message).
The second and easier solution is to order the Pletshcer Deluxe Top Plate conveniently pictured on a Surly LHT below
(source)
.
The deluxe top plate comes with the two rubber grommets pictured as well as the metal plate and bolt. There are two groves in the plate that line up with tabs in the grommets that supposedly stop the plate from slipping about. I have orded this (along with rubber feet for the stand) from Thor USA. I will let you know how it goes.
Here is another pic of the stand installed on my bike.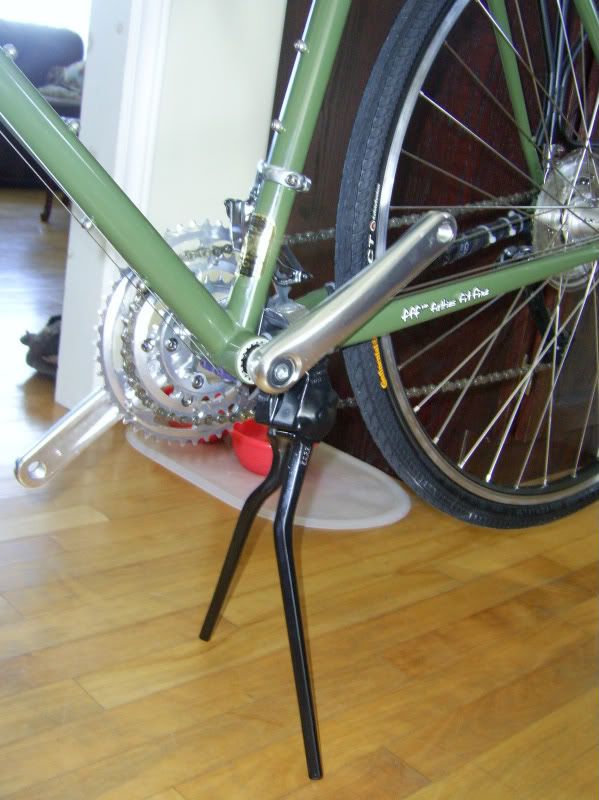 Another pic of my rear rack installed (and adjusted since last time).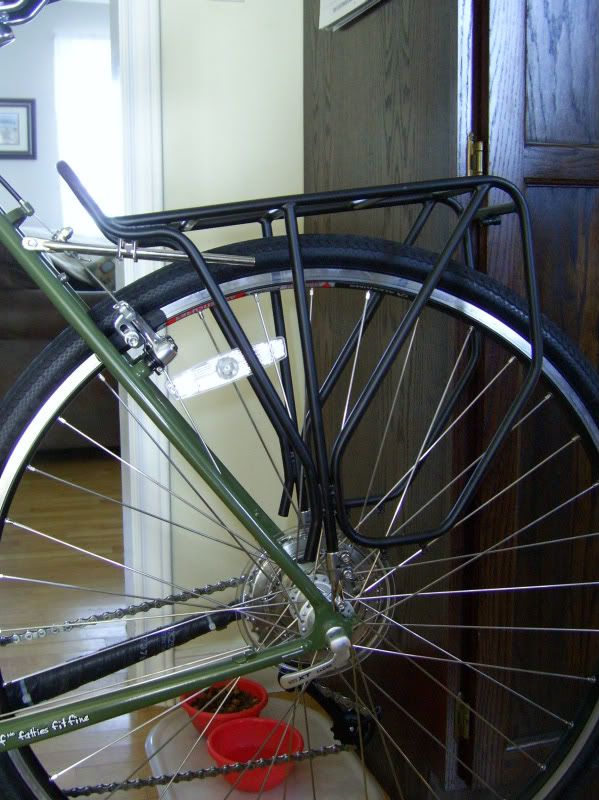 Hopefully soon, we'll have fenders, water bottles and cages, lights, and my new Arkel GT-54 rear panniers! She is starting to look like a touring bike!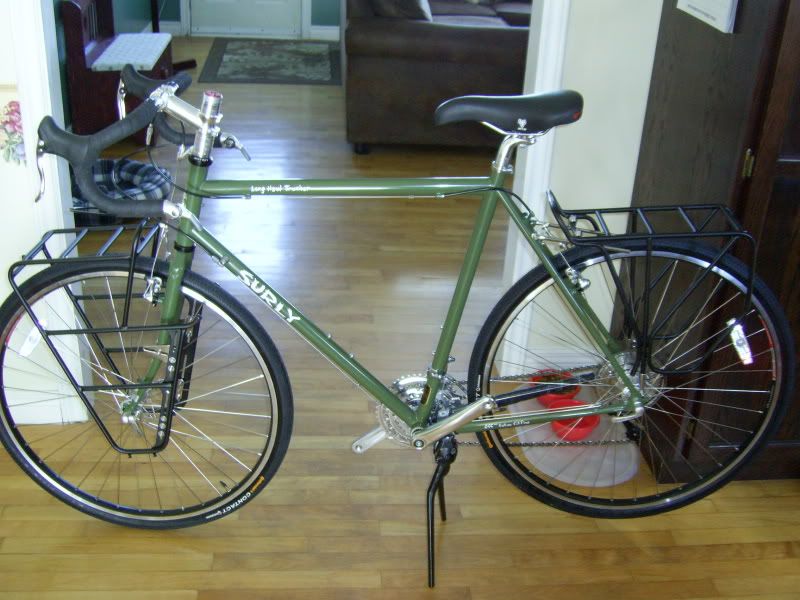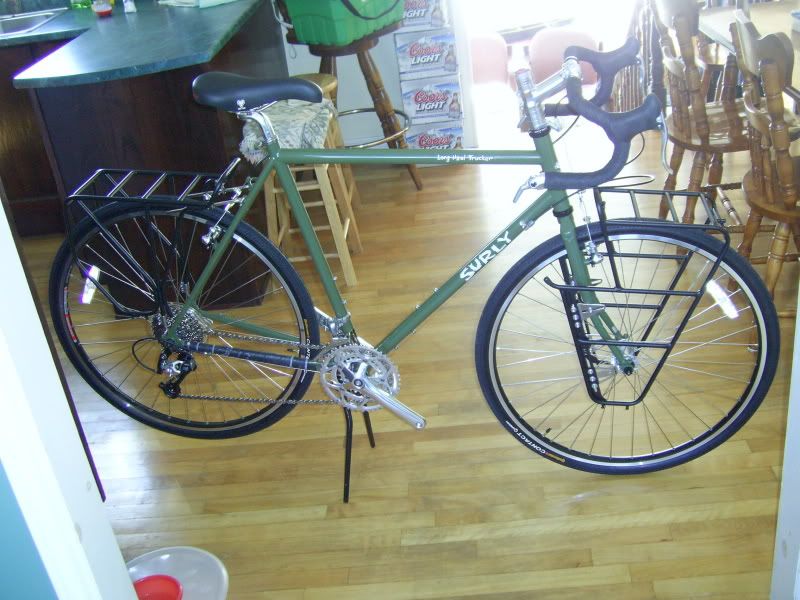 Speaking of touring, the anouncement. Well... this entry turned out to be pretty long and I don't want to bore you all so you'll just have to come back tomorrow for the announcement. :)