So... I guess I haven't updated in a while. This summer/fall was kind of a dud with regard to cycling. I didn't do near as much as I would have liked. However the dutchie bike that I built did get a lot of use for small runs.
I had kind of decided to put the blog on permanent hiatus, and I was going to make a post saying that but I just never got around to it. But I've got a few things to show off this winter so I figured I'd blog about it.
I've got two of my pics selected to go into the Halifax Cycle Coalition 2012 calendar. The one in the banner of the blog, as well as another winter riding one. As a prize they gave me a
quick release mec seat bag in blue
, and a
filzer bike computer
. So that's nice.
About a month or two ago, I bought an old piece of junk raleigh for $60. It was setup as a single speed with the stock 6 spd freewheel and the triple crank. I stripped it, and replaced the handlebars with a straighter set I had. Bought a single speed coaster brake rear wheel, ground the teeth of the outside chain ring, and chopped off the inside one, and threw on the Schwalbe Ice Spikers and my new winter beater was born.
I still plan on putting some Shimano Deore v-brakes that were on the old beater on this guy for front brakes, just as a backup. When I first put the new rear wheel on, the right seatstay separated from the frame. I was pissed off, but I heard of a guy who did welding here in Halifax and was a bit of a bike nut himself. It was Steve, the same guy I discussed
bike trailers with last year
. I told him I didn't care how it looked and just to keep it as cheap as possible. And with just an hours worth of work he did this really impressive bronze work.
If this is what he can do on a cheap, rusty, steel frame in an hour, I'd love to see him work with some quality stuff and taking his time!
Anyway, so this is what I'll be riding this winter. My first time doing single speed as well as a coaster brake, but it'll be nice to try something different.
Also remember this?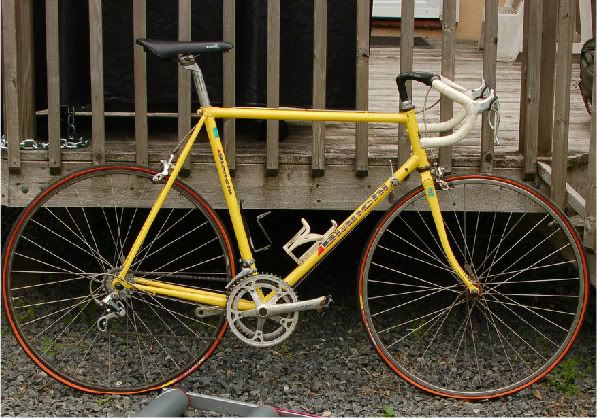 This is the '88-'89 Bianchi Brava with full 105 that I picked up this past summer. After selling some of the stuff that came with this purchase (aero bars and rollers) this bike as well as the brand new mtb shimano cycling shoes in my size only cost me $10. Not too shabby. Because the paint is in such nasty shape (hairline cracks throughout) I've decided to spend a bit of money on this guy and get it into tip top shape performance and style wise. Roger at the Halifax Cycle Gallery has a contact of a guy who will powder coat a frame with all the prep work for $125. So I'm going to try to get it as close to this colour as possible. (Taken from
here
)
Blue cable housing, blue Brooks B17 or Brooks Colt, blue bar tape, and maybe even some 700x23c's with blue highlights. It's going to be pretty.